One day few years ago I was offered an opportunity to test new Waterpik Aquarious Professional Water Flosser. I quickly decided to go with it. Since the earliest days I was always very interested in dental health. My mother who was a dental worker at the time had a crucial role with that interest. This interest grew in my teenage years as I had to wear a braces. And I hated every minute of that experience! Even my husband, a boyfriend at the time , seems to often remember how much I brushed my teeth and how often I used the mouthwash.
Strange thing happened when I was pregnant with my first child. I developed an awful aversion to inserting anything in my oral cavity. And that also included a toothbrush. I used to brush 3 times a day before becoming pregnant, but for the period of nine months a brushed only once a day. First time I had visited the dentist after the delivery, I had some new cavities.

Ever since that time, I made a decision that I will never again neglect my careful dental hygiene. On the days after the delivery I had a really sensitive gums and teeth. The pain could be easily set of by cold, heat and even sugar. And the pain was so intense at times that it would bring teats to my eyes. To counter my ailing condition I used brush, floss and also a mouthwash every day to try to combat it. I also tried to teach my children all the good habits when taking care of your teeth.

My first impression wasn't amounting to much. I was skeptical about water flossers. All the hype surrounding it seemed to good to be true. My doubts were eased a little after I was assured that Aquarius Professional was thoroughly tested and was good for the job it was designed to do. Here is what was told to me: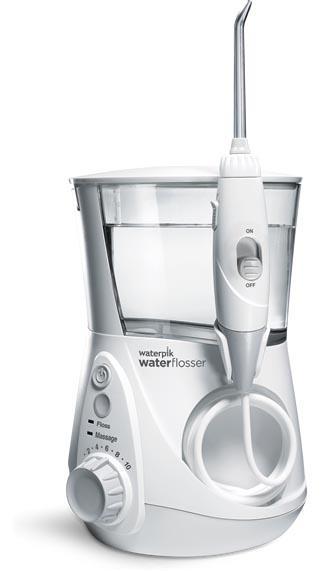 "The Waterpik Aquarius Professional Water Flosser (WP-660) is the easy way to floss. It is also more effective and the most advanced water flosser ever."
Although I had some mixed emotions, I was excited when unpacking it when it arrived by mail. I followed the directions on the user manual.

For the first use, you have to initialize it. That means that you first have to fill the water vessel and turn it on. After that, you have to let the water run into the sink to make sure it is working well. I followed this procedure completely. Next was testing it on my own teeth.
Common sense and the user manual state that you should start from the lowest settings first and progress from that until you achieve the right power settings for you. When I first tried it the water was shooting all over the place, I mean it was everywhere. The whole bathroom was flooded, all the floor cover wet. As I increased the power settings it only got worse. It was comic and tragic at the same time. The water was dripping from the mirror and from my hair. It was on the counter and was flooding behind it.

My thinking was that it must have somehow be my fault, and I refilled the reservoir once again. It occurred to me to try to keep my mouth a little bit more closed. And so I did. This helped, and my control over the angle was much better. It worked perfectly.